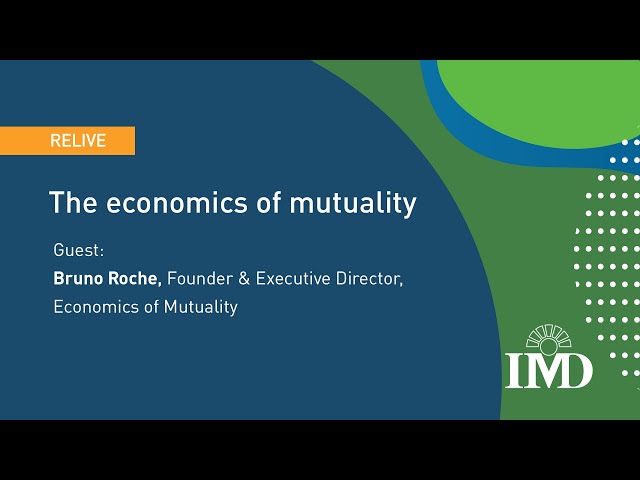 This webinar, led by Professor Vanina Farber, elea Chair of Social Innovation and Bruno Roche, Founder & Executive Director of Economics of Mutuality, appeared live on Wednesday, September 16th at 11am CEST. 
How can The Economics of Mutuality offer a framework to transform business models and unlock innovation? How can companies transform their purpose into strategy? Can companies rethink how they relate to their broader ecosystem in a way to create mutual positive impact?  
These questions were answered in this webinar, hosted by Professor Vanina Farber, with her guest Bruno Roche, the Founder & Executive Director of Economics of Mutuality formerly Chief Economist at Mars, Incorporated from 2006 to June 2020. 
At the time, Bruno Roche headed up Catalyst – Mars' internal think-tank and global thought leadership capability, where he was joined by economists, historians, business leaders, physicists, sociologists, engineers among others.  
Recognising its potential to reshape the landscape of business, finance and management education, Mars endorsed Bruno Roche to re-deploy the Economics of Mutuality as an independent public interest foundation.  
The Economics of Mutuality is described as a movement, with Bruno Roche leading the organization from Geneva.  
The Friedman Doctrine turns 50
By way of introduction, Professor Vanina Farber provided a simple definition of a company's impact. The impact of a company can be described as "the world with your involvement minus the world without your involvement".  
Professor Farber cited the Milton Friedman Doctrine: "the social responsibility of business is to increase its profits", which is also the title of Friedman's seminal article published in the New York Times in 1970.  
With this doctrine celebrating its 50th birthday, to what extent does this approach continue to hold true for business today? Using the webinar's audience, Professor Farber launched three polls to find the answer among participants. 
A first poll asked participants to describe the purpose of their own company, with options ranging from "being purely a communication exercise" to "addressing meaningful challenges and drives the whole strategy".  
A second poll asked if the strategy of participants' companies focused on "maximizing profit for shareholders" or "developing profitable solutions to the problems in the ecosystem of the company".  
A third and final poll asked if participants' companies success was measured through "only financial KPIs" or the "full array of financial and non-financial KPIs".  
Answers to the three polls showed most of the participants' companies' purpose, strategy and success measurement criteria were based on the mutuality of generating positive outcomes for both the company and its broader ecosystem. But results were stronger for top-level strategy than the granular focus on non-financial KPIs. 
COVID-19 as a major turning point
"It's good to be right, but it's better to be right at the right time," said Bruno Roche as he explained the impact of black swan events, like COVID-19.  
"The crisis changed the way we live, the way we work, the way we interact." 
He also described changing consumer behaviors with increased online shopping and the impact on businesses with many going bust, with less or no travel, and volatility in the stock markets.  
 "The pandemic has helped to reveal not only some of the weaknesses but also some of the strengths in our system," said Bruno Roche.  
"Players who we believed were strong are not as strong as they used to be. And those who we thought were on the sidelines happened to be those we needed to rescue the system and make it work," he said.  
He described those who played a crucial part in keeping the system alive as nurses, doctors, delivery men and women, teachers and farmers.   
 "Those who rescued the system were the governments, not big corporations. Governments once again becoming central economic players."  
 Beyond the Friedman paradigm
Bruno Roche reminded listeners of how business existed before financial capitalism. "Business didn't wait for Friedman's article to operate and be successful," he said.  
He described the duty and opportunity for a system change that would impact business leaders, investors, management schools, policy makers and others to "reposition the corporation positively" in ways that reflect the changing needs of society and the planet.  
The growth of the knowledge and digital economy, the size and influence of MNCs, black swan events like COVID-19 and new forms of scarcity with the top 1% of wealth reaching 27% in G7 countries, reflect how much the world has changed in the last 50 years.  
Despite these dramatic changes, the challenge of transitioning to a stakeholder-friendly economy from a shareholder-friendly economy remains.  
 The right level of profit
Drawing on an anecdote, Bruno Roche outlined the journey taken by Mars in 2007 to get to the bottom of the question they asked him to answer: "What should the right level of profit be for a corporation?"  
"The real question was: what level of profit would maximize the performance of the company?" he said. "To my surprise, this question is still a blind spot today."  
"It's not a magic number but the outcome of a transformational process," said Roche.  
The answer they came up with was how to transform business performance at the core, while thriving by meeting the needs of the world. This formed The Economics of Mutuality.  
The Economics of Mutuality hinges on integrating five components: purpose as strategy, ecosystem orchestration, non-financial performance metrics, mutual profit and expanding leadership.  
 The Economics of Mutuality as a management innovation
With the purpose of business no longer being to make profit, as in Friedman's time, The Economics of Mutuality purports a new purpose for business: "to produce profitable solutions to the problems of people and the planet. Not profiting by creating problems.".  
Based on a unique blend of business practice and academic research, The Economics of Mutuality is focused on purpose-driven transformation at the core of the business. It puts forward a holistic approach to performance across both non-financial and financial capitals.  
First and foremost a practical methodology and set of tools, The Economics of Mutuality engages the finance function as the driving force of innovation.  
Bruno Roche also briefly named two examples of companies enacting the principles and approach of The Economics of Mutuality (without naming it as such): Novo Nordisk and Mahindra First Choice. Professor Farber mentioned Neste as a further good practice example from the oil and gas sector.  
 

Four forms of capital to measure success

"We spent six years defining these metrics because we wanted them to be simple and actionable in a business environment," said Bruno Roche. He added "we found that these metrics were correlated with the economic performance of the company". 

Natural capital, human capital, social capital and financial capital are the four forms of capital that underpin the metrics used to assess the performance of companies who produce profitable solutions to the problems of people and planet.  

Drawing on the assessments of a Global DIY company that applied this framework of metrics, Roche explained how stores that performed well on both human and social capital metrics outperformed those stores that only performed across financial metrics.  
 The barriers to transformation
Commenting on the uptake of The Economics of Mutuality, Bruno Roche said there are some businesses that are more open to change than others.  
"Until COVID-19, we could collectively have lived with a kind of tension of doing business as usual and having a set of CSR initiatives running in parallel," he said. 
"I think COVID-19 will make this kind of tension almost impossible to manage now. Business will have to choose: either go back to traditional ways of doing business or embrace a new paradigm for value creation."  
He described how some businesses perceive The Economics of Mutuality as a framework to build a more resilient ecosystem in the face of a crisis like COVID-19, as a means of capturing more value.  
 Doing more with less
In reflecting on the changing paradigm, particularly in relation to growth, Bruno Roche commented that "social and human capital can grow without limit but natural capital is finite, so we need to find a way to do more with less."  
Explaining how to measure the performance of this, he explained "Instead of measuring the output, like carbon emissions, we measure the input."  
"We use a resource-efficiency approach in which we measure year-on-year the economic growth of one unit of natural capital assets and we measure how we can do more with less: more energy, more mobility, more goods but with less natural capital."  
Rethinking processes, procedures and the way in which markets can satisfy both shareholders and stakeholders is a key function of the elea Center for Social Innovation.  
As we look to rebuild post-crisis, we believe that now is a critical time to convene corporates, investors and all other change agents to create a more inclusive and sustainable economic system.  
We encourage you to find out more about our activities and upcoming webinars from the Center's page here.