Video
Best-in-class boards and post-COVID-19 governance
What makes great governance today and how can your board achieve it?
55 min.
May 2020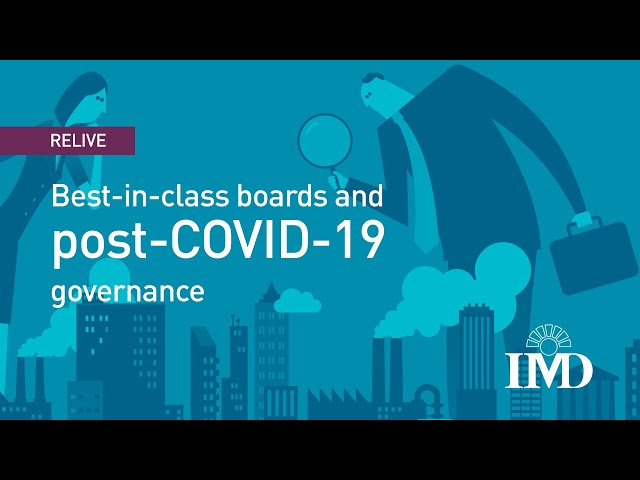 In a world deeply changed by the coronavirus, boards are preparing for fully renewed governance: new topics, new practices, new concerns.
During this webinar – which appeared live on 29th May 2020 – Didier Cossin, IMD Professor of Governance, Founder and Director of the IMD Global Board Center explores the major shifts that boards are preparing to address, from technology to geopolitics, and from M&As and consolidation to future supply chains.
Professor Cossin dissects the effects on principles of governance, which are shaken as new diversity replaces old diversity and as command economies challenge state-to-business relations. Using recent examples, Professor Cossin explains how governance quality has been a key driver of performance during the crisis, and how it will remain a key differentiator in the post-crisis world.
The webinar examines the principal question – what makes great governance today? – in depth.
One aspect of great governance is successful board work in the post-COVID-19 world, according to Professor Cossin. Different boards have different strategies, but in the end a few key ingredients are necessary for success.
"Where and how does the board play its role?" Professor Cossin questions. "Is it co-creating the strategy or is it supervising the strategy?
He has been teaching boards – for decades before the current crisis – that they must prepare in advance for such disruptions. Professor Cossin notes that "Preparation is everything", adding that, surprisingly, more than half of companies do not have proper crisis management strategies in place.
"Profits are still the best proof that you are using your capital and resources from society properly." Professor Cossin insists.
Examining the post-COVID-19 period, Professor Cossin delves into the new challenges to board effectiveness post-crisis.
Six factors are very important: technology and new ways of working; globalization and geopolitics; stakeholder management; consolidation and M&As; shareholder power; and stewardship.
"Certain skills are often lacking on boards," says Professor Cossin, "Digital skills are not always the most important of them, surprisingly – it can be political or geopolitical savvy."
For the Q&A session, Professor Cossin is joined by moderator Stephen Smulowitz, Term Research Professor, IMD Global Board Center, and answers questions on climate and society and how they are challenging boards, amongst other topics.
Looking for something specific?
IMD's faculty and research teams publish articles, case studies, books and reports on a wide range of topics
The new CEO's guide to crisis management
Summary
As baby-boomer CEOs retire, a new wave of leaders is taking over. These new CEOs are full of fresh ideas and perspectives. However, many inevitably...
Retaining entrepreneurial spirit during hypergrowth at sportswear brand On (B)
Summary
When one of On's co-founders stepped into the elevator at the brand new On Labs headquarters in Zurich, a fellow co-worker asked whether it was als...
Copyright owner
IMD Copyright
Industry
Consumer Goods, Sportswear
Available Languages
English
Navigating organizational change: A bitesize framework for leaders 
Summary
Keep the "change hamburger" in mind as you steer through your transformation journey.
Decisions about the future of AI shouldn't be made by "dark personalities"
Summary
Traits such as overconfidence and narcissism, which may lead tech leaders to make bold decisions and take risks in the pursuit of growth, are dange...
Big shoes to fill: How to succeed a brilliant leader
Summary
Executives winning promotion must navigate their transition with a balance of humility, respect for legacy, and a vision for the future.
Use GenAI to uncover new insights into your competitors
Summary
Companies have a growing problem of information overload regarding markets and competitors, which often prevents the C-suite from making the best d...
Fostering psychological safety in teams
Summary
This note highlights the pivotal role of psychological safety in fostering a culture of flexibility and innovation within organizations, especially...
Copyright owner
IMD Copyright
Available Languages
English
Understanding and overcoming resistance to change
Summary
In today's turbulent business landscape, organizational change is imperative for survival and success. However, research reveals that 75% of transf...
Copyright owner
IMD Copyright
Available Languages
English
The power and practice of organizational judo
Summary
This note summarizes how Judo's "gentle way" offers insights for mastering organizational politics. The Japanese martial art of Judo combines physi...
Copyright owner
IMD Copyright
Available Languages
English
Retaining entrepreneurial spirit during hypergrowth at sportswear brand On (A)
Summary
On Wednesday 15 September 2021, about 100 On team members were going to jog to the NYSE to mark the running shoe brand's first day as a publicly tr...
Copyright owner
IMD Copyright
Industry
Consumer Goods, Sportswear
Available Languages
English