Video
Leading in turbulent times webinar series: family businesses
Resilience and adaptation, paired with an agile, holistic approach to leadership, strategy and governance, will help family businesses weather the storm.
53 min.
April 2020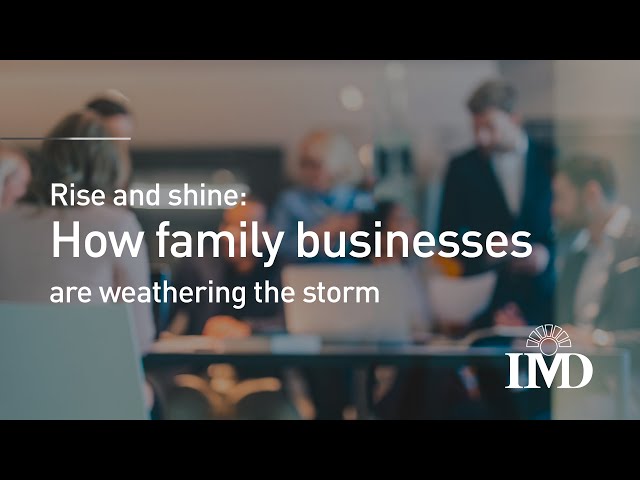 This webinar given by IMD's Peter Vogel, Professor of Family Business and Entrepreneurship, Director of IMD's Global Family Business Center and Debiopharm Chair for Family Philanthropy, appeared live on Monday 27
th
 April at 11am CEST.
The COVID-19 crisis is affecting all types of businesses. However, family enterprises will be affected in a particular manner because of the inter-dependencies of the family, ownership group and the business.
Multi-generational family businesses, that is family businesses who managed to stay united and successful in business across generations, have survived world wars, pandemics, financial crises and recessions over the last centuries. This is one area explored in this webinar.
Professor Vogel says, "Among the 500 largest family businesses in the world you can find close to 40 firms who have been around for over 150 years. They have clearly done a few things right in order to not only survive for that long, but to flourish over time."
Resilience and adaptation are two core principles of long-term success. In his research and work with multi-generational family enterprises, Professor Vogel has identified some core traits and characteristics of resilient and well-adapted companies, including long-term thinking, financial prudence and emotional connection of the family and owners. In addition to these he has pinpointed family values and loyalty, entrepreneurial renewal and adaptation as well as a sense of greater social responsibility to be key. He presents these in more detail in this webinar.
However, these characteristics are not enough anymore. As Professor Vogel says, "While these traits were great to get you to today, they are no longer enough to survive the globally connected 21st-century business landscape amidst exponential technologies and the fourth industrial revolution. Reactivity is no longer an option!"
The complexity of the current crisis lies in the fact that COVID-19 comes at a time where digitalization is on everybody's agenda. More traditional, long-term oriented family businesses are struggling to compete with new players who enter their industries with novel and disruptive products, services or business models. While digital transformation was once considered an option by some owners and boards, it has quickly become a "must-have" if you want to survive into the year 2021, forcing many companies to fast-forward their digitalization efforts.
In order to survive the current crisis, family businesses must also fundamentally shift their approaches towards leadership, strategy and governance. Small cracks in the system can quickly lead to a failure of the entire family enterprise system.
Long-term, holistic and integrative approaches are needed, bringing together the family and owners, the board and top management to protect the different stakeholders' interests and needs. They must move closer together and form highly agile and real-time decision-making entities that not only weigh up the different short-, mid- and long-term risks, but also seek out new business opportunities. As we know and Professor Vogel reinforces, every crisis is also the source of new opportunities.
The webinar explores concrete actions that should be taken on the family, ownership and business side and provides a set of recommendations with regards to governance. "Family businesses with world-class governance will shine and come out of this crisis stronger. Those who are struggling must look at it as an opportunity to work on their governance systems, at last," Vogel says. Now is also the time to take advantage of the tech savvy next generation.
Peter Vogel ultimately puts matters into perspective: "COVID-19 isn't the last crisis your business will see. However, it is stressing us all in a unique way. Supply and demand are equally squashed. The world is at a sudden standstill." So, he says, let's learn from it and get stronger: "See this as a wake-up call and then build resilience into the system."
And indeed, the majority of family businesses are optimistic about their future, as the webinar's final poll with viewers revealed.
If you have specific questions about this webinar, your family business or family office, please contact the IMD Global Family Business Center.
To view all webinars, please visit our Leading in Turbulent Times page here.
Family firm entrepreneurship: An experimental study
Summary
Family managers' entrepreneurial intentions (EI) play a crucial role in the long-term success of family firms. Previous research has highlighted ed...
The new CEO's guide to crisis management
Summary
As baby-boomer CEOs retire, a new wave of leaders is taking over. These new CEOs are full of fresh ideas and perspectives. However, many inevitably...
Retaining entrepreneurial spirit during hypergrowth at sportswear brand On (B)
By
Alyson Meister
and
Valerie Keller-Birrer
Case reference:
IMD-7-2482
©2023
Summary
When one of On's co-founders stepped into the elevator at the brand new On Labs headquarters in Zurich, a fellow co-worker asked whether it was als...
Copyright owner
IMD Copyright
Industry
Consumer Goods, Sportswear
Available Languages
English
Navigating organizational change: A bitesize framework for leaders 
Summary
Keep the "change hamburger" in mind as you steer through your transformation journey.
Decisions about the future of AI shouldn't be made by "dark personalities"
Summary
Traits such as overconfidence and narcissism, which may lead tech leaders to make bold decisions and take risks in the pursuit of growth, are dange...
A multi-voiced account of family entrepreneuring research: Expanding the agenda of family entrepreneurship
Summary
This conceptual, multi-voiced paper aims to collectively explore and theorize family entrepreneuring, which is a research stream dedicated to inves...
Big shoes to fill: How to succeed a brilliant leader
Summary
Executives winning promotion must navigate their transition with a balance of humility, respect for legacy, and a vision for the future.
Use GenAI to uncover new insights into your competitors
Summary
Companies have a growing problem of information overload regarding markets and competitors, which often prevents the C-suite from making the best d...
Fostering psychological safety in teams
Summary
This note highlights the pivotal role of psychological safety in fostering a culture of flexibility and innovation within organizations, especially...
Copyright owner
IMD Copyright
Available Languages
English
Understanding and overcoming resistance to change
Summary
In today's turbulent business landscape, organizational change is imperative for survival and success. However, research reveals that 75% of transf...
Copyright owner
IMD Copyright
Available Languages
English